Today consumers are used to and expect great customer and retail experiences both off and online. This means that every online store should strive for greatness in the customer experience. Conversion rates in physical retail are between 20-40% whereas online they are only 2-3%. From these numbers alone we could come up with several reasons as to why this is and more importantly how to drive up the conversion rates online. An online store can of course handle more traffic than a regular brick and mortar store so the sales in euros can be close to each other even though the conversion rates are probably impossible to get as high as in a traditional setting, where there are the added elements of physical observation of the goods and more personal service. An online store should however emulate more what happens in a physical retail setting to drive up conversion and sales.
What is an amazing online experience?
Just like in a traditional retail setting a good online shopping experience should be based on one-to-one-interaction. Customers are looking for:
Relevant information
Control when to continue, pause or stop the retail journey. If they pause it they should be able to continue easily
Completing the purchase when they find a solution that meets their need or solves their problem
For a retailer, this means that they would need to present relevant information at the right time the way the customer wants it. In online stores, as also discussed previously in this review, the focus is usually too much on the transaction and not on the customer experience. The founder of Amazon Jeff Bezos gave the following advice and focus factors for the insanely successful Amazon: "We don't make money when we sell things. We make money when we help customers make purchase decisions." (enterpreneur.com).
In traditional retail models, salespeople helping their customers in stores is a personal experience and is unarguably one big factor contributing to the high conversion rate of traditional retail in comparison to the online environment.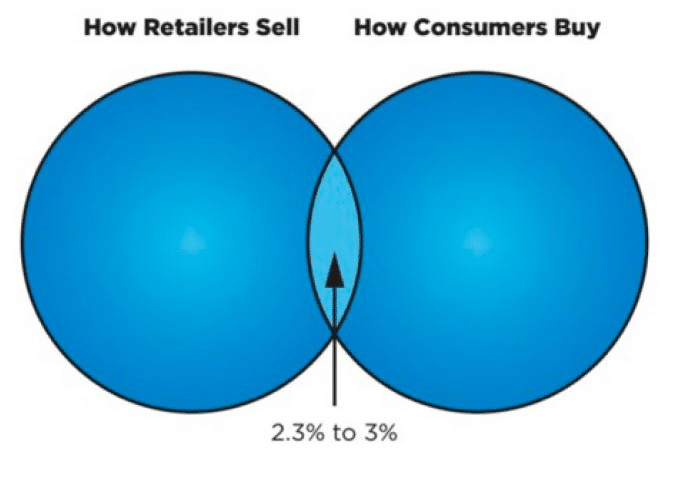 How to create the online customer experience?
Customer journey and control
Consumers are on a journey to find a solution to fill their needs or to solve their problems. In 2014 Google found that a consumer references 12 different sources on average before making a purchase either in-store or online. Back in 2010, the same number was only 5 sources. This means that providing enough relevant information at the right time to a customer on your website may lessen the need for the said customer to reference other journeys since it makes their journey easier and should increase the chance that they complete the journey on that online store leading to a sale. Customers within an online store are also taking several steps while moving closer to completion after finding an appropriate solution for them. Steps need to work flawlessly together and information presented at the right time when the customer wants to have it. Another important factor to make the customer feel in control is that their action in the online store leads to expected results. How obvious and working are the actions the customer presumably wants to do on that site and at the same time what are the actions the online retailers want the customer to take? During the steps, the customer needs to feel that they are in control of what happens as well, which builds a competitive advantage.
Some examples in practice for an online store when a customer is not in control are: content not requested by the customer comes up, click-to-action didn't do what expected, unnecessary steps, functionality activates, or adjusts without customer action. Giving the power to the customer can be done for example by allowing them to take actions they want, set expectations for what happens on call-to-actions, and give options to improve the experience without forcing changes. For the user experience (UX) design of the store physical and mental efforts for the customers should be minimized. Examples of physical efforts are clicking, scrolling, typing, and load times. Mental efforts include confusing the customer, irrelevant content, page refreshes, dealing with pop-up windows, and needing to memorize content or instructions to make a decision.
Value
Value creation is not easy to do but it pays off by creating a better relationship with the customer and retailer and through that customer loyalty. To create value for its customer a retailer needs to make the customer experience richer and simpler to make it easier for them to find what they are looking for. For an online store, it would be important to find potential pain points for their customer on the site. A pain point means a step or action that requires effort to complete. A common pain point might be, how to use a certain product or how to select the right solution if there are multiple options available. Product videos, how-to guides, and product helpers are a way to ease the customer into making the right choice for them.

To succeed in creating true value to the customer an online store needs to be able to add the value but also make sure it doesn't add unnecessarily to the interaction time or effort the customer needs to take. For example, when a customer is browsing a product a clear optional call to action (button) could be visible for how to use -video. It adds value but doesn't add any unnecessary interaction.  On the other hand, when the customer browser the product a how-to video or a generic brand video is presented to them without them taking any action adds value to the interaction but also increases the interaction time unnecessarily for the customer when they need to close the video, browse further or look for the right relevant content elsewhere. Most relevant content should be presented on top of the page so its easily accessible and the rest can be put lower on the site.
Data in decision making
Data is important but having access to the right data to make decisions is what turns it into a useful tool. By using data for example site's analytic data one can find out what turns visitors into customers and even more importantly what might drive them away. Analyzing the right data can also help to point out pain points in the customer experience and addressing those pain points. Going back to the video example mentioned earlier. Let's imagine you notice from data that views, for a video you think is highly relevant for the visitor to see to understand the benefits of a certain product, are low. If you manage to figure out why the video has so few views and fix the issues, it should turn more visitors into customers. The issue might be in the video placement, how the video is made, or slow load time for example. An online retailer can also implement customer satisfaction questionnaires or surveys for the user experience on their site to learn about what's good and what doesn't work. If a customer needs to reach out for customer support it most likely means the information they were looking for is not easy enough accessible in the online store and a reach out to customer support always pauses their journey on your site towards the purchase. Good customer support can make them continue their journey but there is always a risk of losing potential customers.
Consumer first design
Today many companies are thinking mobile first in response to the shift for towards mobile browsing:
Share of mobile users in 2020 is 51,3% when in 2015 it was 31-38% (Q1-4) (statista.com).
"79% of people say they're more likely to revisit and/or share a mobile site if it is easy to use" (thinkwithgoogle.com).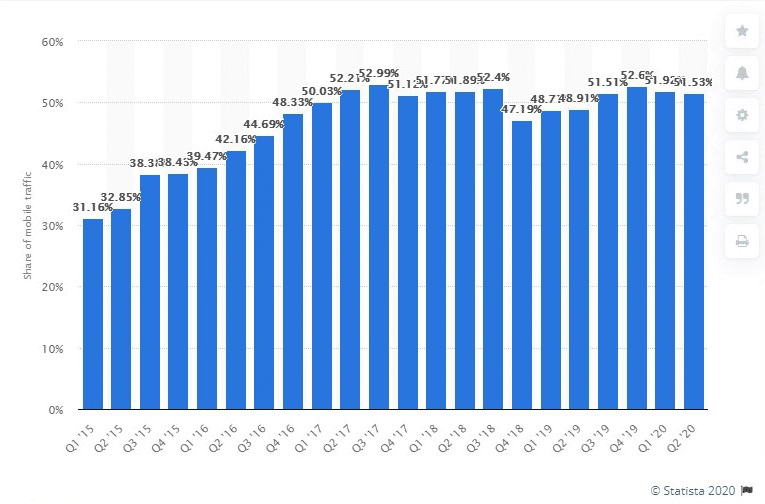 However, mobile-first shouldn't mean mobile-only. Different layouts and design work differently on a small screen than large. A mobile site should not just be enlarged to a large desktop or laptop screen and assume the work is done. Even if mobile user share is growing other users should not be forgotten and the same user may use an online store with different devices as well. Improving the user experience even further on a large screen contributes towards delivering a great customer experience and adds value. An online retailer should make use of the extra space and possibilities provided by larger screen sizes or computers or even tablets, even if their site is made mobile-first.
The Customer-first approach in an online store design means that an online store focuses on what elements work best with each device, and provides the best functionality on them as well. The visual design of the website should also be adjusted to fit the device, screen, and functions. When the focus is on customer experience all customer touchpoints need to be considered and making the customer experience design fits all of them. When the customer experience design is done customers first, not screen sizes, it's more readily in use also for any future touchpoints that are used at the moment and makes the customer experience more future-proof. A customer-first design can for example answer the question, what delivers the best shopping cart experience on their mobile phone/desktop/tablet? The design of the cart might be different for each device. There are of course more touchpoints than just internet-enabled devices and the same customer-first design should be applied to all of them.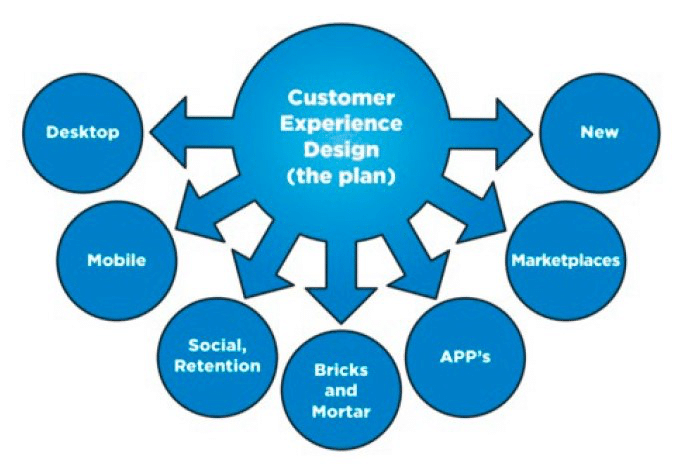 Discussion of the principles
Randall's extensive article provided a lot of things to consider undoubtedly. The article also included a lot of other sources that include more information on each principle presented in the article. It gives a very good overview of how to improve the customer experience online. Of course, it doesn't go too much into technical details on the implementation but offers clear and easy to understand examples and even a case study. It seems that Randall is on point since especially for most small companies' their online stores are too focused on transactions instead of the customer experience on the site, the value it adds, and what a good customer experience can bring to the online retailer. Customer journey is something that is sometimes heard of even with smaller companies but it usually only means the clearest way to check out not considering the rest of the journey. When it comes to websites I'll develop in the future I will most certainly use some points from this article when designing them and look closer at the wished customer actions with the site at each different step of the online experience.
Sources:
Randall G. The 10 principles for creating amazing online retail experiences. Econsultancy.com. https://econsultancy.com/the-10-principles-for-creating-amazing-online-retail-experiences. Accessed 25.8.2020
Think With Google, https://www.thinkwithgoogle.com/consumer-insights/consumer-trends/smartphone-productivity-tools-revisit-mobile . Accesed 10.9.2020
Statista.com, https://www.statista.com/statistics/277125/share-of-website-traffic-coming-from-mobile-devices. Accessed 10.9.2020
Enterpreneur.com. Take a Tip from Bezos: Customers Always Need a Seat at the Table https://www.entrepreneur.com/article/234254. Accessed 2.9.2020